Lahore on Wednesday stay covered in thick Smog, heavily loaded with contamination which influenced the air quality. We didn't know the actual reason of the Lahore Smog earlier but we have exposed the reason now. NASA has discovered new information about the leading reasons of  Smog that's engulfing Lahore these days.
The Smog which we saw on Wednesday 2nd November 2016 wasn't just limited to Lahore, it had been influencing cities in India as well. New Delhi is also facing similar Smog which is not predictable to dissolve until 2-3 days (rain forecast). The cause for this Smog seems to be wide scale crop burning, in the Indian Punjab. The farmers say that they don't have enough money to purchase expensive equipment to clear the land so they depend on blazing it. Usually, in the end of October farmers begin the burning process of paddy stubble which leads to clouds of smoke blackening the skies.
NASA image recommends that burning of crop stubble is extensively affecting the contamination levels. Farmers in neighboring Punjab have been setting fire to paddy stubble in their fields after cultivating the crop as part of the slash and burn. A NASA forecast shows abnormal amounts of 'fires and thermal anomalies' in the Punjab region of India and Pakistan.
According to NYT report, farmers are burning around 32 million tons of leftover straw.
Another reason for the poor visibility conditions is because of a drop in wind movement and an increase in humidity, which makes the pollutants remain close to the ground.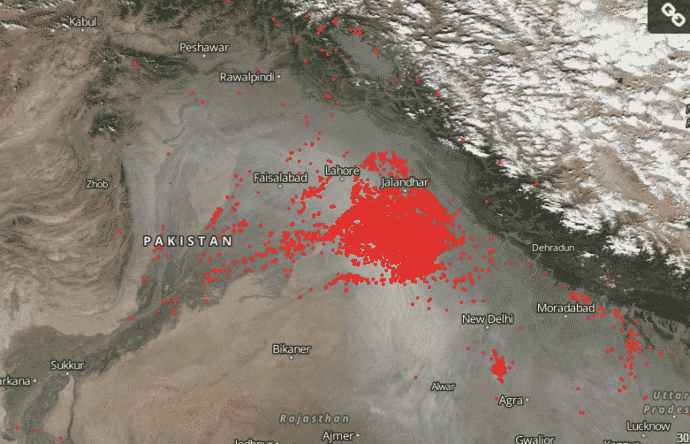 How to Combat Smog Situation in Lahore?
If you are in Lahore or any attached areas, please be sure to keep these things in mind:
Keep your windows shut. Please ensure that the Smog is not getting inside an enclosed room or space. It's a great idea to stay indoors until the Smog dissipates.
For people with asthma and/or chronic obstructive pulmonary disease, have your inhaler with you at all times. Keep your doctor on speed dial if your condition has the potential to worsen.
Are you a fitness-conscious person? Well then you will have to avoid doing strenuous physical activity that results in increasing breathing patterns. Having Smog means the ground levels contain more ozone than usual.
For those who need to travel from point A to B in this situation, here's how they can reduce their exposure to Smog – car owners and bikers should avoid crowded areas where traffic jams happen i.e. road junctions. Car windows should be kept closed at all times. Bikers can take a route which has the least traffic obstructions.
An appeal to all Lahorites who are plying their vehicles on the road. They should not keep their engines running and be considerate of the environment and other people.
And last but not the least, as your civic duty as a citizen of Pakistan, please file a complaint with the Environmental Protection Agency.
How to Survive SMOG:
As an individual, you must know about the precautions to be taken in this situation. The picture below describes in detail: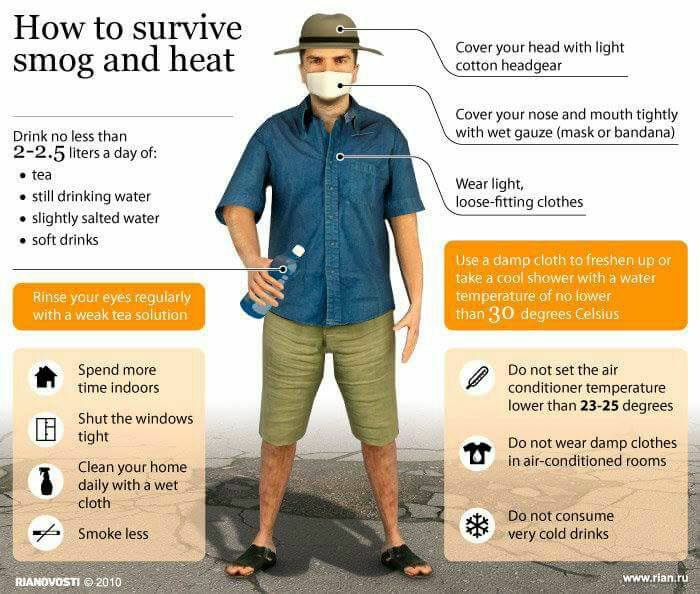 It must be mentioned here that Pakistan Meteorological Department has said that Smog will persist for another five days at least.
---
Download Locally Lahore Android & iPhone App. Join locally Lahore on G+ and Facebook to get in touch with the latest information and events of Lahore.
Find out more information of Locally Lahore App on www.locallylahore.com