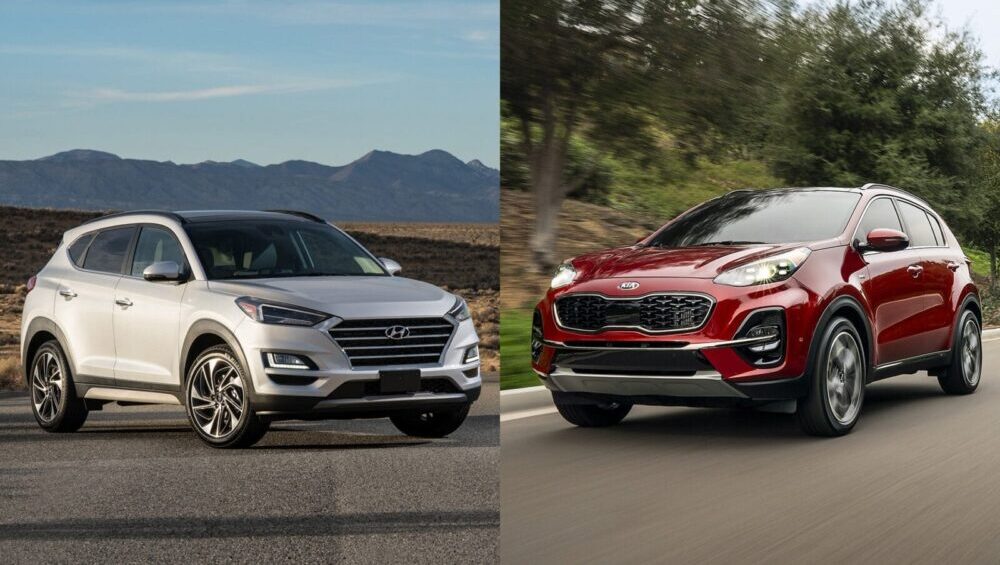 SUV Market in Pakistan
The SUV market all over the world is witnessing new additions in the SUV club. Those additions are from the best and well-reputed automobile companies i.e Tucson from Hyundai and Sportage from KIA. Here in this article, you are going to have Hyundai Tucson vs KIA Sportage comparison.
Sportage has shaken its competitors as from the last year, it is the best hot selling SUV in Pakistan. It has come up with new modern features at a very reasonable price.
Whereas the Hyundai threw their cards on the table in August 2020 by unveiling Tucson which was actually to be launched in June 2020 but was delayed due to the COVID-19 outbreak.
As, all you know that Hyundai is the parent company of KIA, so there are many similarities in both cars. Tucson and Sportage, both are from Korea. Both of them, around the world, are achieving success.
The features and conveniences offered are almost the same and are also in the same price range. Keeping in view all these things, the competition between Hyundai Tucson vs KIA Sportage is definitely tough. However, here you will get to know some distinguished attributes that will help you purchase the best.
Before digging into the comparison of Hyundai Tucson vs KIA Sportage, here is something you need to know. Hyundai Tucson is launched in 2 variants whereas KIA Sportage is offering 3 variants.
Hyundai Tucson Variants
FWD (Front-wheel-drive) GLS Sport
AWD (All-wheel drive) Ultimate.
KIA Sportage Variants
Dimensions
It is a fact that both the cars are having the same sedan-based frame and by the human eye, their measurement looks the same as well. But due to the difference in design, the measurement is slightly different. Here you will get the dimensions of both SUVs:
| | | |
| --- | --- | --- |
| Measurements (inches) | Tucson | Sportage |
| Body Length | 176.378 | 1751.378 |
| Width | 72.83465 | 73.0315 |
| Height | 65.15748 | 64.37008 |
| Wheelbase | 105.1181 | 105.1181 |
| Ground Clearance | 6.77165 | 6.77165 |
Engine
Prior, we have mentioned that both the Tucson and Sportage share a lot of similarities and both are from cousin companies. So this is the reason that they are having the same 1999cc engine with 6-speed automatic transmission.
Fuel Tank
Both the SUVs have the same capacity of fuel tank i.e 16.4 gallons.
Fuel Average
The Hyundai Tucson comes up with two engines.
161hp 2.0-liter four-cylinder
181hp 2.4 liter four-cylinder
The lesser capability engine gives 23 mpg in the city and 25 mpg on the highway. The 2.4 liter gives 22 mpg in the city and 28 mpg on the highway.
If you are seeking AWD variants of 2.0-liter and 2.4-liter, then they give 22 in the city, 25 on the highway, and 21 in the city, 26 on the highway respectively.
Same like Tucson, Sportage also furnishes its customers with two engines.
185hp 2.4-liter four-cylinder
240 hp 2.0-liter turbo
The variant having 2.4-liter four-cylinder gives 23 mpg in the city and 30 mpg on the highway while the 2.0-liter turbo gives 20 in the city and 28 on the highway.
If you add AWD in 2.4-liter and 2.0-liter, the milage will go 22 for the city, 26 on the highway, and 19 in the city and 24 on the highway respectively.
Weight (lbs)
The Hyundai Tucson is of 3732 lbs while the KIA Sportage is of 3765 lbs.
Features and Specifications
There are very few features and specifications in which both cars differ. So here is a table of features that you will get in both cars.
| | | |
| --- | --- | --- |
| Features and Specifications | Tucson (Ultimate) | Sportage (AWD) |
| Parking Assist | Yes | Yes |
| Central Power Door locks | Yes | Yes |
| Backup Camera | Yes | Yes |
| Downhill and Hill-start brake assist | Yes | Yes |
| Electronic Parking Brake | Yes | Yes |
| Cruise Control | Yes | Yes |
| Driver & Front Passenger Airbags | Yes | Yes |
| Wireless Phone Charger | Yes | No |
| Auto Defogging System | Yes | Yes |
| Puddle Lamp | Yes | No |
| Cooled Glove Box | Yes | No |
| Rear USB Connectivity | Yes | Yes |
| Reclinable Rear Seats | Yes | Yes |
| Key-less Entry and Go | Yes | Yes |
| ABS Brakes with EBD & BA | Yes | Yes |
| Immobilizer System and Burglar Alarm | Yes | Yes |
| Power Tailgate | Yes | Yes |
| Lumbar Support Adjustment | Yes | Yes |
| Speed Sensing Auto Door-lock | Yes | Yes |
| Seating Capacity | 5 | 5 |
| Basic Warranty | 5 year/60,000 miles | 5 year/60,000 miles |
Here it is important to mention that the KIA Sportage Alpha variant is lacking some of the above-mentioned specifications and features that are present in Sportage AWD.
Pricing of KIA Sportage and Hyundai Tucson
The prices of Hyundai Tuscon and KIA Sportage were the same but now there is a sudden increase of 2 lac rupees in the Hyundai Tuscon. Keeping in view this step of Hyundai, KIA is getting a big edge in the market. Whereas, KIA is also having the benefit of its least variant of Sportage i.e Alpha, because it is much cheaper than of Sportage FWD and Sportage AWD. Down here, you will get the prices of both the SUVs.
Hyundai Tucson

GLS Sport (FWD) costs for Rs. 5,099,000/-
Ultimate (AWD) costs for Rs. 5,599,000/-

KIA Sportage

Alpha's price is Rs. 4,399,000/-
FWD's price is Rs. 4,899,000/-
AWD's price is Rs. 5,399,000/-
Bottom line
From the article, you will surely have come to know that both cars differ slightly from each other. There is no big difference. Both cars are having a beautiful interior with hard-wearing fabrics on seats. A little edge goes to Tucson who's having a dedicated place for sunglasses.
Hyundai and KIA, both the brands are good and are competitors too. It is very difficult to go for one because both value for your money and safety and are reliable too. If you love to use things easily then you must go for Tucson for having more buttoned-up options and if you are having a craze for power, then you should rely on Sportage 2.0-liter turbo engine.
Written by: Sarim Chaudary