Find out about Model Town Community as Model Town is one of best residential area of Lahore. It is located next to Faisal Town, Gulberg, Garden Town and Township suburbs of Lahore. Model town's cooperative was formed in November, 1921 and Sir Ganga Ram played an important role in the planning that went behind Model Town's civil design.
Model Town Community
Model Town History
Model Town was the fruition of Dewan Khem Chand's life long dream to see the establishment of a 'Garden Town'. Advocate Khem Chand's unshaken able belief in the values of self-help, self-responsibility, democracy, equality, equity and solidarity are the values of cooperation upon which the principles of co-operative societies are founded and also the reason why Model Town was established as and still is a co-operative society.
On Sunday, 27 February 1921, about 200 persons assembled in Lahore's Town Hall under the chairmanship of Rai Bahadur Ganga Ram and decided to establish a cooperative housing society to be named as garden town. The meeting approved Diwan Khem Chand's proposed housing scheme based on cooperative principles in the suburbs of Lahore to solve housing problems and also to provide improved sanitary and better living facilities for the residents, and thus the government was requested to provide a 2000 acre (4 km²) plot of land.
The residents of Model Town, who owned their spacious houses, were retired judges, rich businessmen, traders and upmarket store-owners. Many high court judges, doctors and engineers had also moved to Model Town from the city. Included among the residents of this best laid-out residential estate of Lahore were college professors and officers of the civil service. The famous communist leader BPL Bedi, who had studied at British and German universities, lived here. His son Kabir Bedi became a famous actor in post-independence India.
Model town Society
A preliminary committee of 21 members was formed under the chairmanship of Khan Bahadur Sir Sh. Abdul Qadir to frame the by-laws and to carry out other necessary work in connection with the formation of the society. As a result, The Cooperative Model Town Society Limited was formed and subsequently registered under the Cooperative Societies Act II of 1912 in 1924.
History
The Society was declared as Evacuee property in 1947 (after partition) as 85% of the plots belonged to non Muslims who migrated to India.

At the time of partition, total Number of Members of Society were 1366, out of which 277 were Muslims & Christians and 1089 were Hindus, Sikhs.

In 1960 the Chief Settlement & Rehabilitation Commissioner allowed it as Legal entity and was allowed to be registered as Cooperative Model Town Society on the payment of Rs. 100/- in Government Treasury as token money. All Assets & liabilities of the old Society including those properties declared Evacuee were transferred to the present Society.

New Bye-Laws of the Society were registered under the Cooperative Societies Act 1925.

The basic object of the Society, however continued to be the same as originally planned, namely to promote the economic and social interests of its members and more to lay out, establish and maintain a garden town".
Objectives
To conceive, design, develop and maintain a garden town.

To buy or otherwise acquire land, buildings, and other movable and immovable property.

To provide services and construct, manage and maintain works, and other infrastructure of various kinds for the convenience and benefit of the resident members.

To sell, mortgage, and lease land, houses, home sites, buildings, and all movable or immovable property as necessary for carrying out the objects of the society.

To build residential houses and other buildings for private and public use and for the convenience of members etc.
Website: http://www.mts.com.pk/
Area & Population of Model Town
Model Town Society is spread over an area of 1463 acres (5.9 km²). This area is further divided into ten blocks (A, B, C, D, E, F, G, H, J, K). Blocks L, M, N, P, Q, R and S are in the outskirts of Model Town and are administered by Lahore Development Authority (LDA). These blocks were named "Model Town Extension" when Model Town Society sold this land to LDA in return of developmental works.
Model Town Society is a unique housing area in its design and is considered a posh locality of the town. Each block has its own market, playground, mosque, triangular parks, etc
Model Town Design
Model Town is designed in the shape of a square with major roads dividing it into blocks vertically, horizontally and diagonally. The area of Model Town is 5.9 square kilometers (or 1463 acres). The center of the square shape is a circular park. Besides the obvious symmetry of design, what else has always attracted me to Model Town's planning is its generous allotment for green areas and parks. Almost 19% of model town's area is allotted to parks. Another 4% area is allotted to plant nurseries and playgrounds. The total length of road network in Model town is 64 km. The length of water supply pipelines and sewerage lines are 60 km each.
This ratio of open area (23%) to residential area (56%) is hard to match in most of the well-planned localities of Pakistan. It is very clear from the following satellite image of Model Town that how well the groups of residential plots have been provided open air facilities.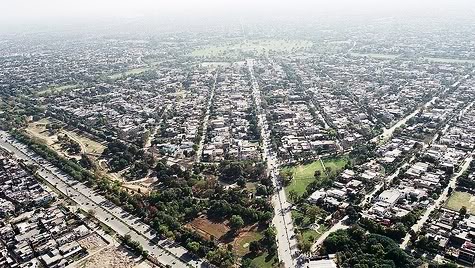 Residential Blocks
Following schematic map of model town shows location of main 10 blocks. From this map one can easily appreciate the symmetry of town planning done here. Model Town is one of the best examples of town planning in Pakistan.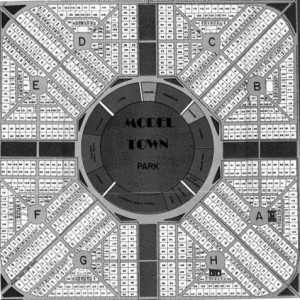 Famous People living in Model Town
Model Town's Cooperative society lists following important personalities on their website, who have lived in Model Town.
Ashfaq Ahmed, Faiz Ahmed Faiz, Hafiz Jallandhari, Hasan Nisar, Mian Aamer Mahmood (nazim Lahore), Nawaz Sharif, Nusrat Fateh Ali Khan and Shahbaz Sharif. Besides these, Mushtaq Ahmed Yousufi also lived in Model Town Lahore in 1950s before moving to Karachi. Cricketer Wasim Akram, Ramiz Raja and Ijaz Ahmed as well as tennis player Aisam-ul-Haq also call Model Town as home.
Schools & Colleges in Model Town
Quaid-e-Azam Law College

Divisional Public School

The City School

Grand Charter School

Hamdard Public School, Lahore

Beaconhouse School System

Lahore Grammar School
Model Town Park is Famous Park in Lahore
The Model Town Park (former Nawaz Sharif Park) is a family park and also a golf course located in Model Town. It was developed in 1990 by the Governor of the Punjab, General (R) Ghulam Jilani Khan. Model Town Park is one of the largest public parks of Lahore consisting of 125 acres (0.51 km2) of land. People from all surrounding towns visit Model Town Park, as it offers a 2.5 km long circular jogging track, lush green lawns and serves as a social meeting spot. It was declared the best park of 2007 in Lahore by the Forest Minister. About 5000 people daily visit this park.
History
The current Model Town Park was a dedicated residential area for the elite before partition as Hindu Lawyers and Doctors had their housing in the area covered by what now is Model Town Park. After partition during 1967 most of the houses were sold as the area was still outside since at that time Walled City of Lahore was considered the main residential are and it would take hours to reach area designated as Model Town now. The big circle in center now serving as Model Town Park is still as green as before. During 1990 it was part of the original plan but was developed by Governor Punjab General Jilani. This circular park is surrounded by the inner circular road of Model Town.
Attractions
Human Development Forum: Human Development Forum, a forum of intellectuals of Model Town, including Dr. Ahmad Saeed, Dr. Akhtar Jafri, Qazi Javed, Prof. Imtiaz Ahmad, Prof. Tanvir Sadiq and others, arrange lectures on every Sunday morning in this park near the canteen on any topic related to public life. A large number of morning walkers attend these lectures, which is a tradition that has continued for many years without fail, regardless of the weather.
Walkers Group: There is a proper 'Walkers Group' who hold tea parties and dinners among themselves. They have even printed a directory of all these walkers with their residential addresses and telephone numbers. A Rose Garden, a Chambeli Garden, and a Families Corner near the lake with flower beds and swings for the children. A small water area is also there for paddle boating. In addition a well know cafeteria is also present in Model Town Park serving all sorts of Lahori snacks.Walkers Group: There is a proper 'Walkers Group' who hold tea parties and dinners among themselves. They have even printed a directory of all these walkers with their residential addresses and telephone numbers.
Annual Flower Show: An annual flower show started in 2008; prizes are given to best houses (flower-wise), Malis, etc. Mayor Lahore, Mian Amir Mehmood gave away the prizes to the residents and staff in 2008 and 2009.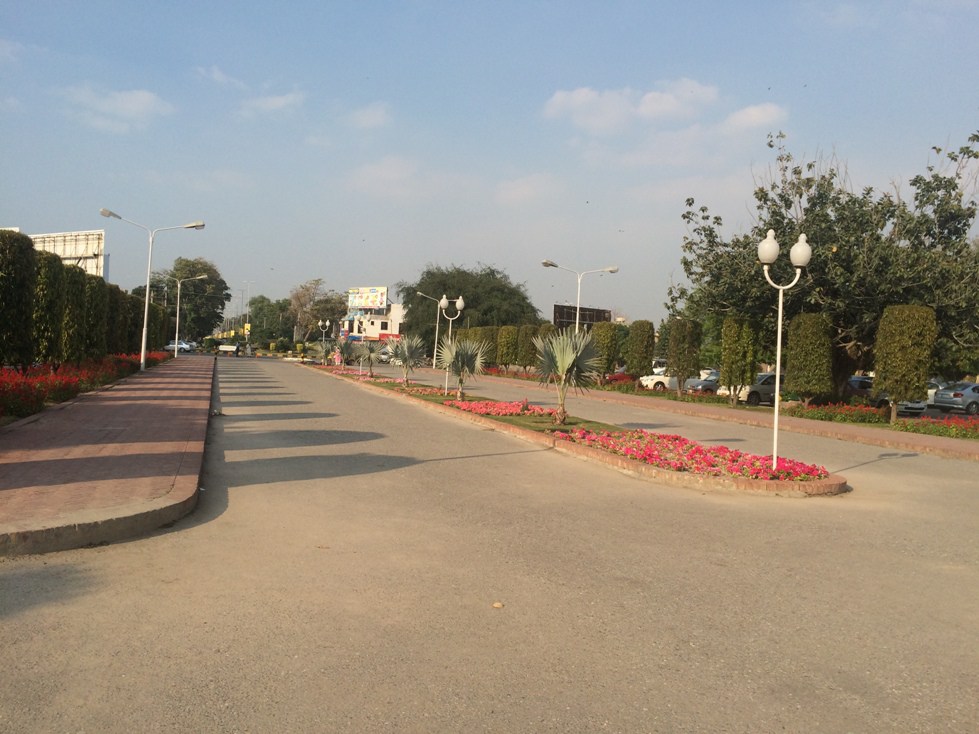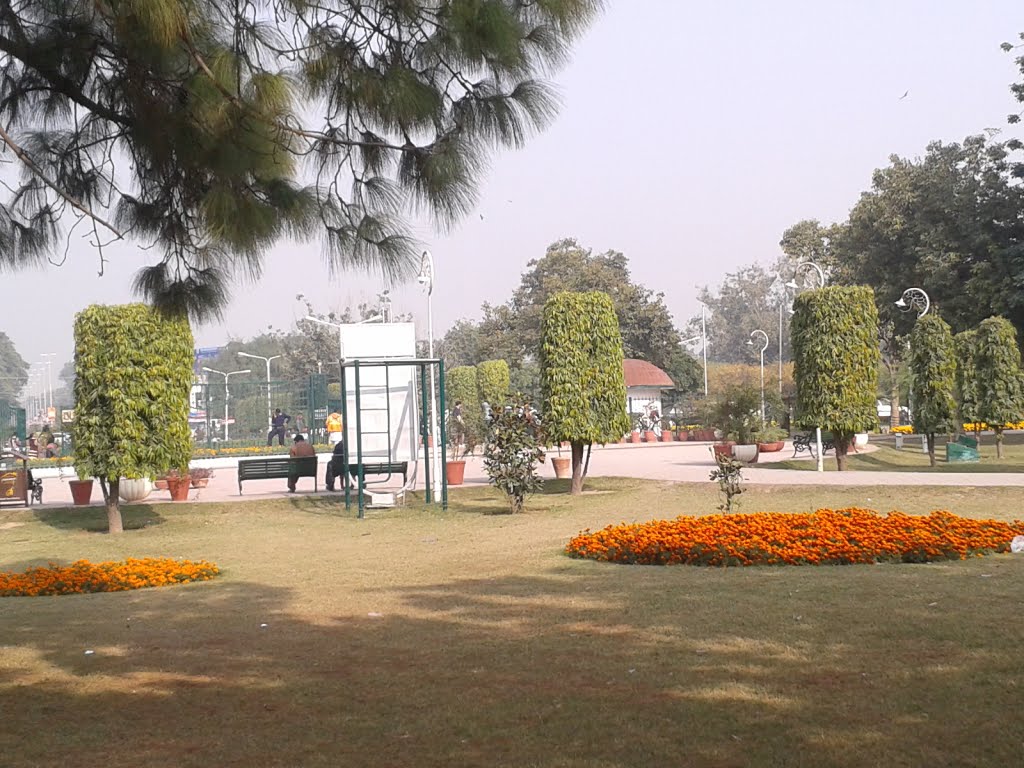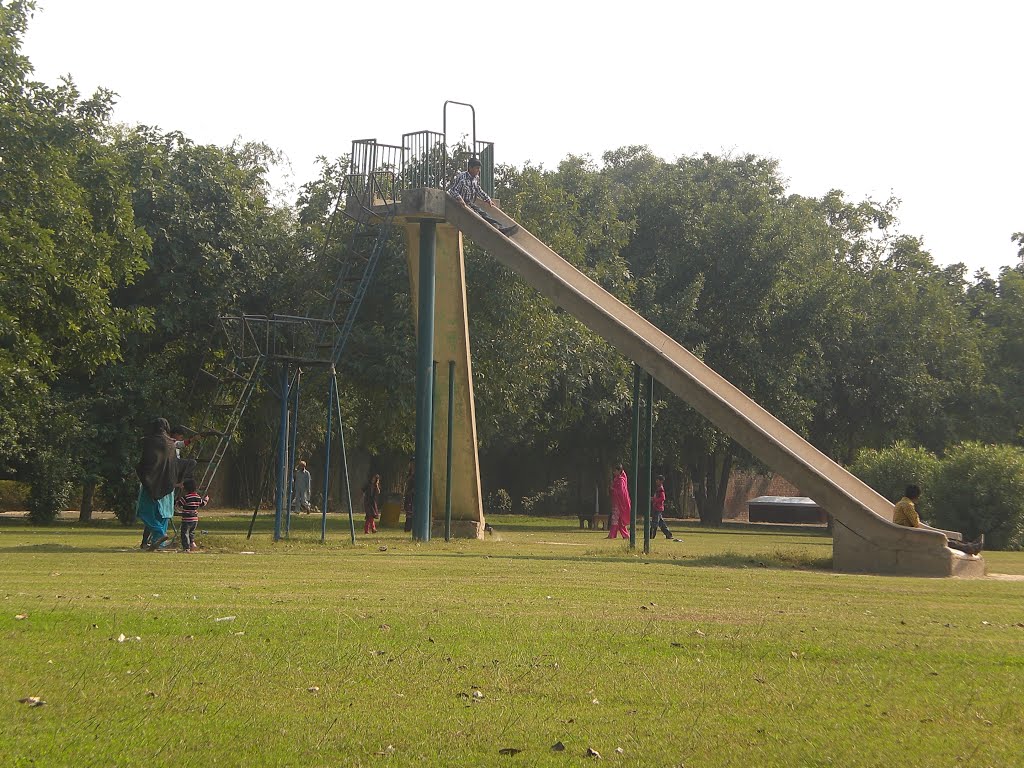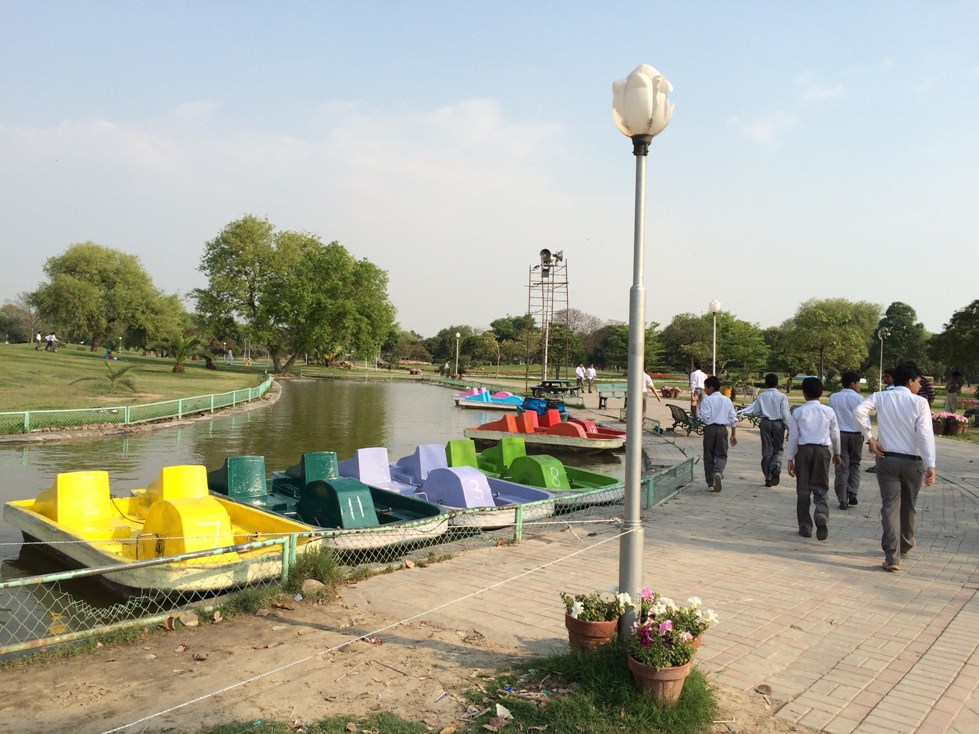 The park has a beautiful pond with a fountain in the middle that shoots water high into the air. Many benches surround the pond where people can sit and watch water flow.
Model Town Markets
In the heart of Model Town is the Bank Square Market and Central Commercial Market. In addition to the central market, every block has an individual market place for grocers and bakers, etc. In 2006 the new Managing Committee under the Presidency of Col Tahir Kardar leased a vacant plot to an international cash & carry store, Makro. It has come up very well and beside having a fine shopping mall.
A-Block Market is the hub for automobile repairs and suppliers of hardware, electrical goods, plumbing, paint and Shahid Glass and Framing House. The Link Model Town Road connects Model Town with Faisal Town and Township areas. On both sides of the road, there are shops for almost everything, from timber, steel, and cement to general grocers.The famous fabrics shop Crimson fabrics is one of the most famous fabrics shop in Lahore.
Sports Facility in Model Town
Sports facilities in the area include Model Town Greens, Model Town Whites (a new club in E-Block), Nawab Mansoor Academy, Model Town Club (home of renowned tennis player Aisam-ul-Haq Qureshi), Amir Mehmood's Club, and International Cricket Academy (LDA). Model Town also has its own Football Academy and Football Club, known popularly as Model Town Football Academy (or MTFA/MTFC). The Academy caters to all age-groups with a strict training regime. It is based at the D-block football ground. Another upcoming football club is the Fame Football Club, housed in B-block football ground.
Model Town Security
The Co-operative Model Town society is now ensuring security for its residents by building barriers at each exit except four main entrances. These barriers (gates) are closed after 9 pm and only four entrances (Ferozepur Entrance, Link Road, Mariyan, and Nawaz Shareefs entrances) are open 24 hours a day. Now Model Town society is also issuing stickers for residents vehicles.
[mappress mapid="5″]
Reference
You can discover all new development POIs and many more places of Lahore city on Locally Lahore App. Locally Lahore is a must have App, which allows you to explore Lahore and it covers up your all point of interest. It gives you information about latest events and happenings in Lahore.
Download Locally Lahore Android & iPhone App. Join locally lahore on G+ and Facebook to get in touch with the latest information and events of Lahore.
Find out more information of Locally Lahore App on www.locallylahore.com