Find out some of the cool Water Parks and Water Sports Facilities in Lahore. In case you and your family are seeking out a fun time in the summer season months, you don't need to go far than a good water park within your city. These water entertainment places are in excessive demand all around us in summer and holiday seasons. Because playing in the surf is a fun and full time enjoyment, an excellent facility has the potential to provide you best water facilities within budget. These parks and water sports facilities may be discovered all around in both indoor and outdoor versions, and with enough variation to hold the attention of adult and teen swimmers, however additionally kids of all ages.
Water Parks and Water Sports Facilities in Lahore
Sozo Water Park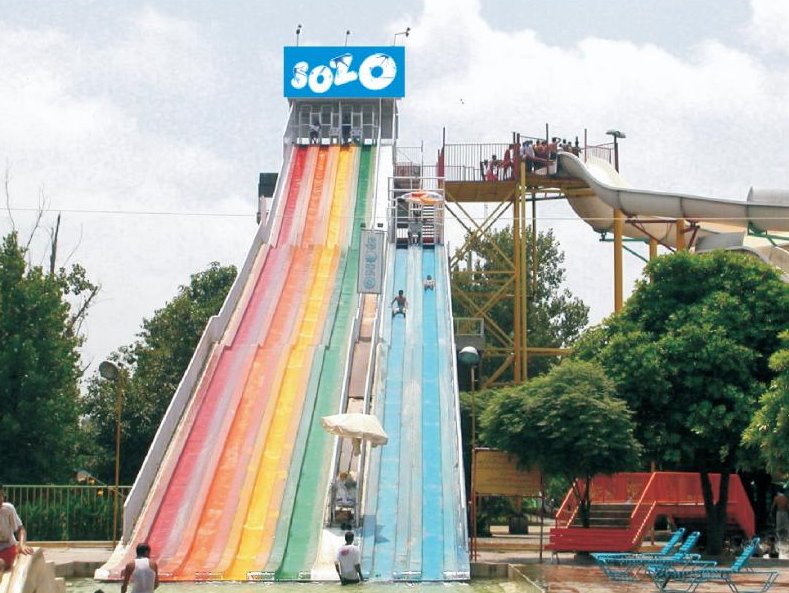 Sozo Water Park is located on Canal Bank near Jallo Park, Lahore, Pakistan. Sozo was prepared with all modern services and services for thousands of people come yearly. There are many beautiful parks & entertainment places in Lahore or even in Pakistan, but Sozo Water Park added a lot of the beauty in Lahore.
It is the best amusement park for visitors around the country and for locals. The park is made on area of approximately 25 acres having outdoor swimming pools, water slides, as well as rides.
Model Town Swimming Club
Located in F-Block Model Town Lahore. It has separate Swimming Pools for women, men, and children. The filtration and chlorination methods are of the highest standards, assuring hygiene and cleanliness.
Punjab University Swimming Pool
All pools are kept in an outstanding running form and are equipped with state of the art filtration and cleaning techniques. A mini gymnasium has been built next to the pool for those who want to work out before swimming. A snack bar provides snakes for swimmers at poolside. Showers and other facilities are also available.
Lahore Gymkhana
With separate pools for ladies, gents and kids, sauna and steam bath facilities are also provided. The women pool is fully roofed with heating facilities for winters.
Defence Club Lahore
Defence Club Lahore offer Swimming pool separately for men and ladies. With hygiene and safety standards that are confirmed. Swimming pool waters here are treated with appropriate chemicals to make it germ-free.
Oasis Pool
Make a splash and enjoy at Oasis Pool. Whether or not you whizz down the loopy water flumes, pass for a spin inside the wave pool or leisurely laze in the poolside area. In the summer season, the indoor pool is the principle attraction and they provide swimming training and pool parties all year spherical. Kids have fun too.
Lahore Canal
Lahore canal is Open swimming and recreational place for public from eras. In the summer season, during simmering days, crowds of people come to swim. They consume watermelons and typically have a good time inside the canal. Younger boys make the group and dive into the water but in the evenings, one sees a great number of people sitting at the banks, the women with their feet in the water.
Avari Pool
Avari Hotel Lahore presents a calm swimming facility for guests or members. People experience a leisurely swim in the loose-form swimming pool heated inside the wintry weather. The pool-aspect is also geared up with Wi-Fi net access to feature to visitors' convenience.
Pearl Continental Pool
Pearl Continental Hotel Lahore, take into account an additional water facility that provides a sense of relaxation and pleasure, the swimming area services might praise memorable life. A coach and lifeguard have also been there for the protection and convenience of swimmers.
Ambassador Hotel Pool
Ambassador Hotel's Swimming pools are extra remarkable than ever, and they now look extraordinary. The turquoise surface with shimmering ripples in the sun is the correct vicinity for a fast dip to experience instant relief from the sweltering warmness, or a swim at amusement in the warm winters at some stages.
Holiday Inn Pool
Holiday Inn offers indoor or outdoor swimming pools or exercising facilities, providing with the perfect excuse to relax and refresh. The cascading waterfall with its shimmering waters merges into the pools separating the women's from the men.
Bahria Safari Club Pool
The swimming pool offers round the clock lifeguards and is fully equipped with safety tubes and night. Bahria has Private temperature controlled swimming pool for recreation purpose.
You can discover more parks and many more places of Lahore city on Locally Lahore App. Locally Lahore is a must have App, which allows you to explore Lahore and it covers up your all point of interest. It gives you information about latest events and happenings in Lahore.
Find out more information of Locally Lahore App on www.locallylahore.com