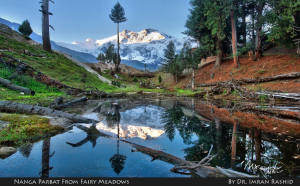 Every step you take into this giant glorious place is no less than a spell that just keeps building and never breaks. This heaven-like place can leave you in complete awe of its beauty. Fairy Meadows, locally known as Joot, is located in Gilgit Baltistan.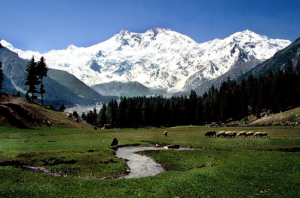 The place is so surreal and unbelievably beautiful. You just have to visit the Fairy Meadows of Pakistan at least once to see what I mean.
Fairy Meadows is an interesting name, right? It was named by a German climber. Just think of the rolling hills, and lush green grassland and you being able to bask in the sun, where so many horses and goats are grazing around happily until sunset. Its unbelievably beautiful.
The journey, though, is not so easy. Dangerous roads, no network, no facilities of washrooms and a 2-hour jeep journey to a point from where you have to walk uphill through the boulders.
But the destination is totally worth the trouble. You have an option for a horse. And honestly, it takes a lot of time than you expect.
Here are some important points that you should consider before start traveling to the fairy meadows. No one tells you these things, so be prepared for it. It's better than learn rather getting into trouble.
Altitude Sickness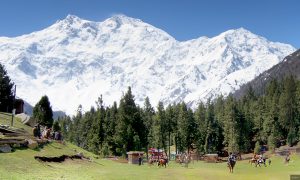 You may very well be used to travelling to high landscapes, but believe me, this one is higher and bigger than most. In fact, even for a country girl who used to trek to so many places in the world, had a hard time trekking here. And she was experiencing reaching 3500 meters above the sea. Fitness is not the only thing that matters.
Altitude sickness affects everyone, no matter how fit you are. But the good news is that when you pass the forest and reach the betrayal camp, a hot cup of kehwa awaits you. If you feel shortness of breath or sickness, they add a local herb in it which is called tumuru, it helps and eases the altitude sickness.
Skin Protection
Some of the foreigners with white skin need to beware because the sun at Fairy Meadows is extremely high and harsh to the skin. Just because the people they're not used to fresh rays. 90+ sunscreen and contrast or application even causes sunburn or rash. You just have one option, wear a cap and you are good to enjoy that precious place.
Cold Temperature
Okay! It's cold outside. If the day time is full of the heavy sun, then dusk and nightfall are surreal.
The mountains turn to the marigold lake at dusk (a heart shaped lake behind the meadows, don't forget to revel in its beauty) and then the sky is filled with the millions of stars that are simply otherworldly.
At midnight, when the moon comes up, you can see the mystery of the forests. Fairy Meadows can also be so cold that it might feel like its freezing.
It just depends on the temperature, the weather and the season. The temperature at fairy meadows drops drastically into the minus. Pack some warm sweaters, jackets or a pair of thick socks for sleeping, when you are camping in a tent. You will totally thank us later.
We hope this post helps you prepare well for the journey and shows you exactly what you are to expect. If you think we're missing something, then do let us know.
We wish you an amazing trip!