Lahore Waste Management Company is responsible to city's cleanliness and sanitation works. It's such a challenging task to maintain cleanness of a growing metropolis. For achieving the purpose, LWMC has outsourced 2 Turkish Waste Management Companies named Albayrak and Ozpak. Both the companies are responsible for Waste Collection Transportation, Mechanical Sweeping and Washing in their respective zones to make sanitation process well-exalted.
Total 274 union councils have been strategically allotted between Albayrak and Ozpak to ensure effective management of waste in the city. Through these processes LWMC maintains the huge and important task of cleanliness task in the city.
Proper Waste Collection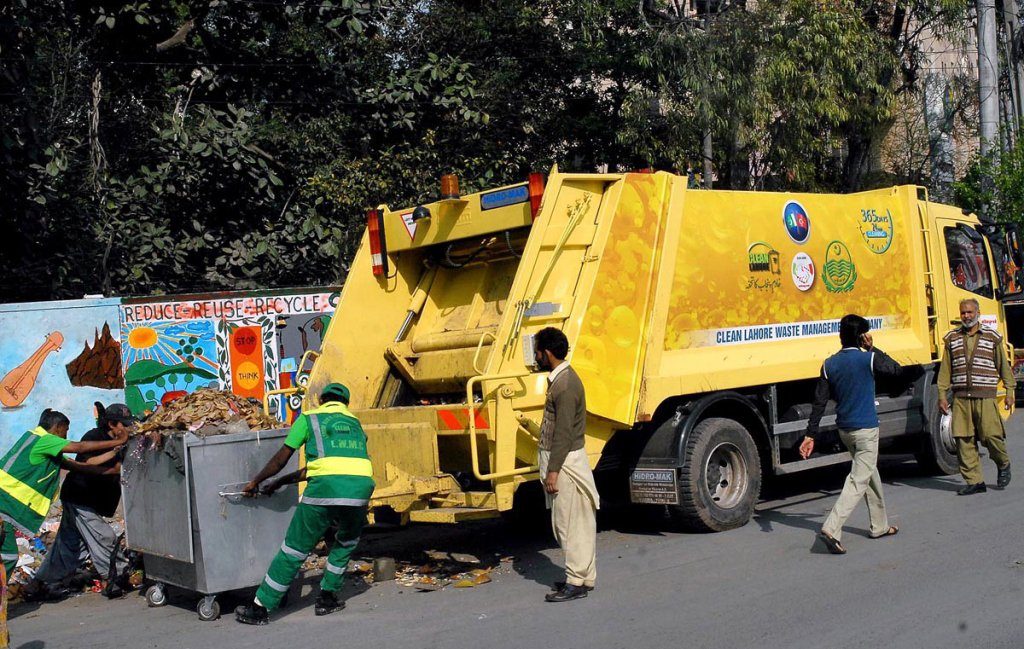 Daily waste collection is major task, so door to door & container based collection system has made to known to the citizens. To this purpose, Placement of Containers & bins has ensured and waste gets collected on daily bases.
If in your area waste bin is missing, you can make request for a bin or waste container for your street or area by submitting your request by filling online request form. Lahore Waste Management Company encourages citizens to request for a bin or waste container.
Manual Sweeping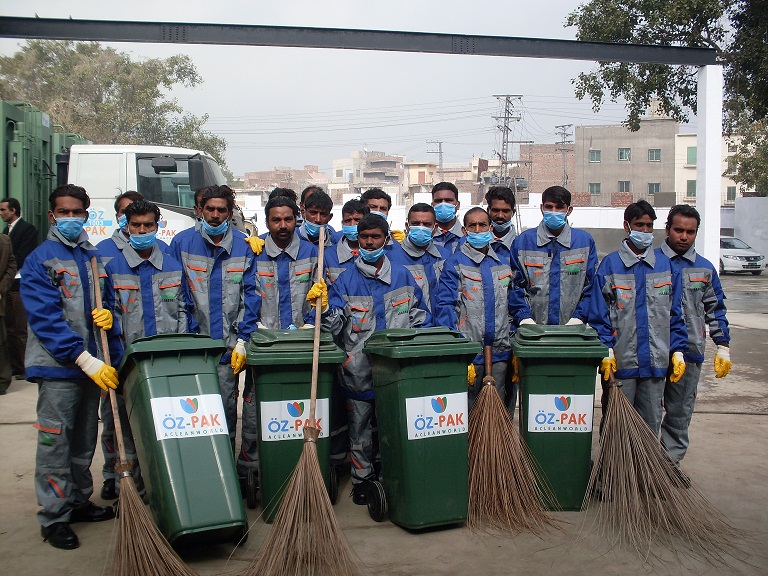 LWMC has deployed team of 800 for ensuring the task of manual sweeping. 500 waste drums have been installed along six primary drains of waste to avoid waste disposal inside drains by general public Manual Sweeping is done in three shifts, Morning, Afternoon and Night. While sweeping and cleaning process workers dressed in their particular uniforms which are provided with health and safety gadgets along with necessary cleaning tools, such as broom and waste pickers.
Mechanical Sweeping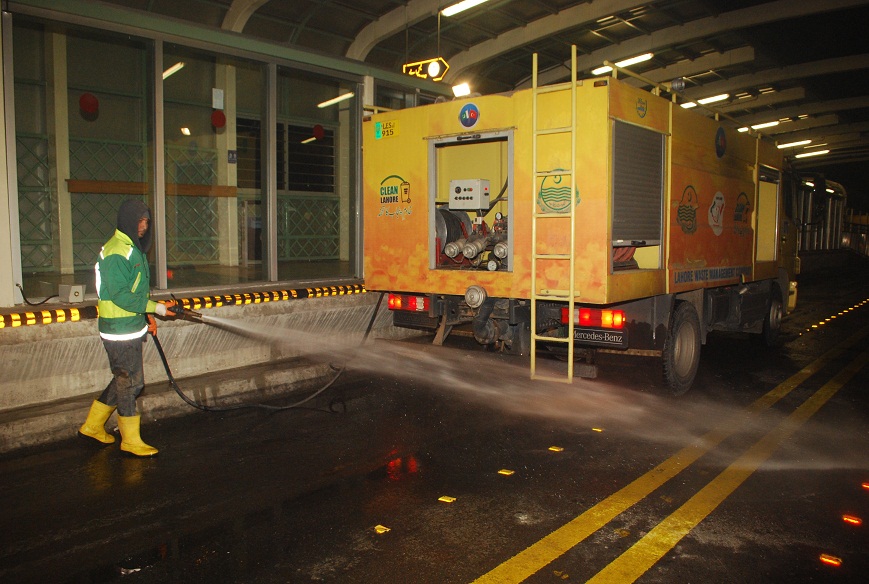 Mechanical sweeping includes over sized vacuums, to cleaning and washing the major roads of the city.
To get the better results, vacuumed the roads at midnight and then they wash almost all major roads and daily 112km area gets washed daily.
Sanitary Landfill Site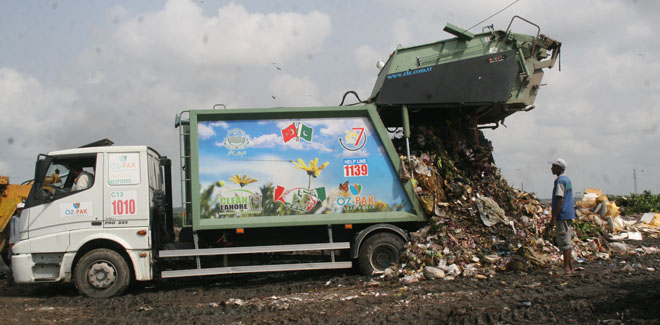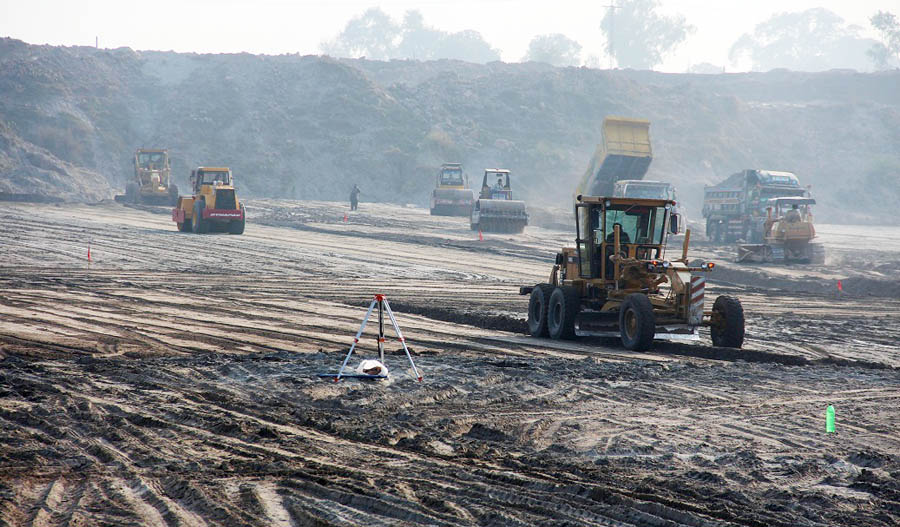 First ever Sanitary Landfill Site in Pakistan started on 52 hectares r areas to develop proper waste disposal culture in the city. So, 3500 tons of waste get managed in an environment friendly and scientific manner. This first ever scientific disposal facility in Pakistan is expanded at a strategic location and meets all international standards required for a waste disposal site. As per project, total 6 cells are developed for waste disposal purpose on an area of 28 hectares. Facility is being constructed by world's renowned Turkish firm CEVKA and Nespak. Experts from Istanbul Municipality (ISTAC) are frequently monitoring construction process and providing their feedback to maintain standard and quality.
Hospital Waste Management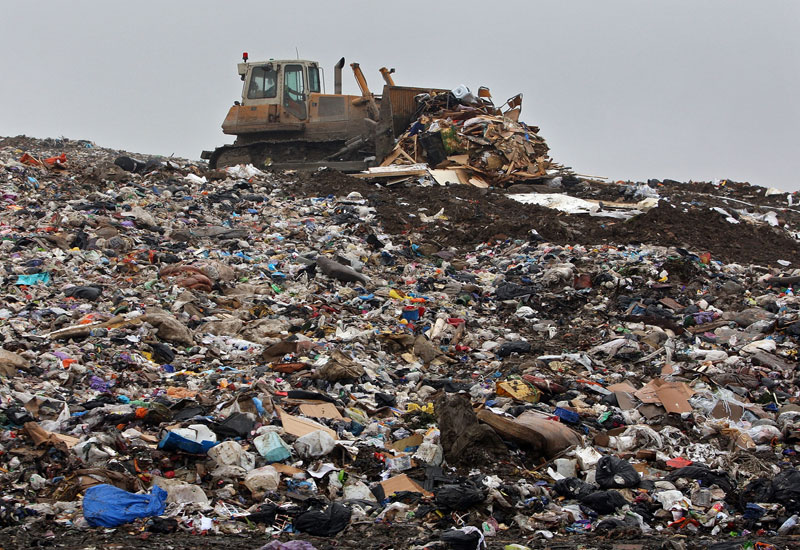 We all know this how important to dispose-off the hospital wastes  LWMC planned to install separate plants for the processing and management of Hospital and Construction Waste in the city. The company is working to draft a code of conduct for general public for the disposal of Construction and Demolition Waste in the city. LWMC will charge public for the provision of services to manage Construction and Demolition Waste. A plant for processing of Hospital waste is installed at Lakhodair which is used for managing waste of public and private hospitals in the city.
Waste to Energy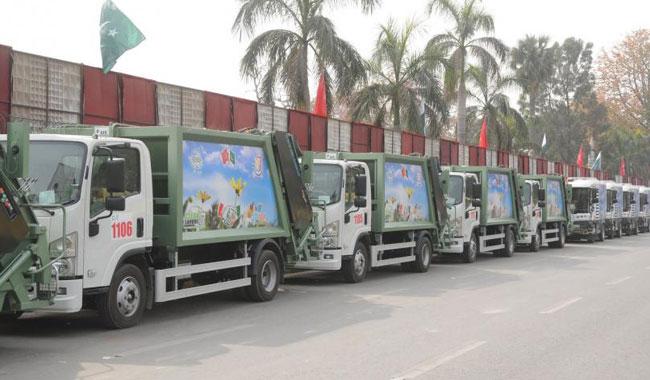 One of the most important components of LWMC's waste disposal strategy is generation of energy from municipal waste. That is no doubt a need of the time, so a US based firm has hired as official consultant of LWMC on WtE project. This environmental expert firm has conducted a feasibility study on WtE project and depending upon the characterization of Lahore's municipal waste, it has recommended Circulating Fluidized Bed Combustion (CFBC) technology. After a feasibility study, this WtE plant is having capacity of processing 1035 tons of waste daily. Plant could generate 550 megawatt electricity daily and installation and functioning of plant will take at least 3 years.
LWMC Campaigns For Public Awareness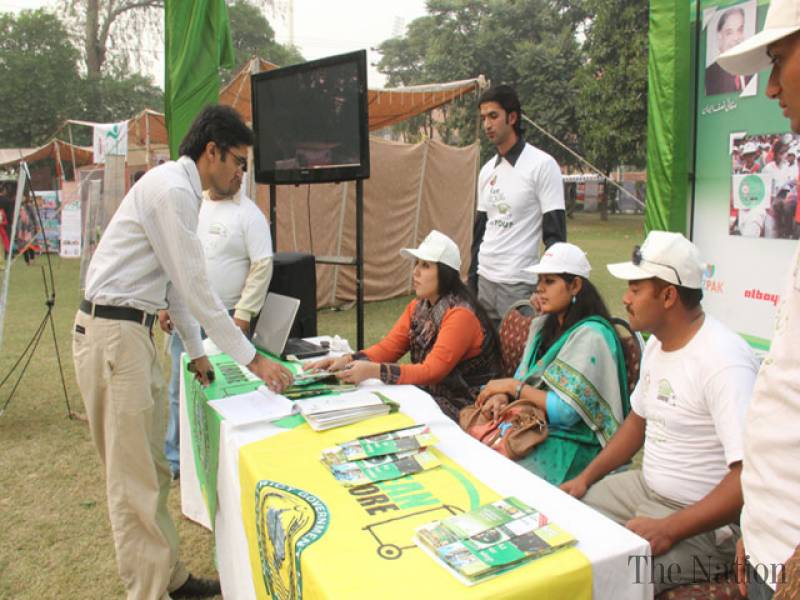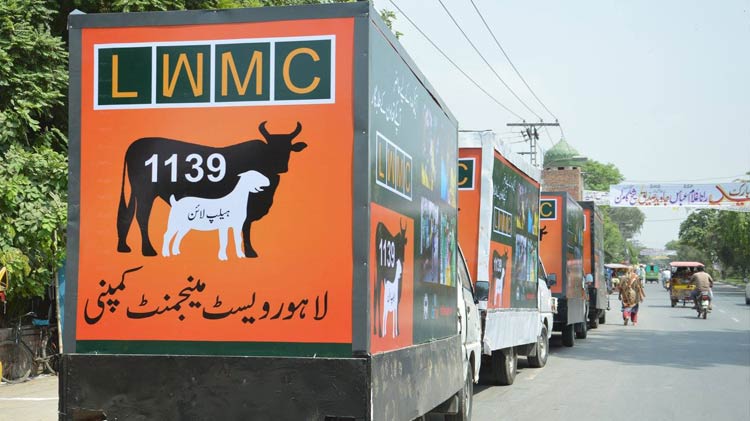 The Lahore Waste Management Company (LWMC) has kicked off awareness activities at schools and markets to ensure cleanliness on special occasions. These campaigns usually comprises   informational & awareness literature, practical demonstration, Quiz and Question and Answer session. During the campaigns distribution of special plastic bags for garbage, installation of bins have done.
Register Your Complain
LWMC encourages citizens to lodge complaint regarding irregularity of workers in their area or they can register complain if they find waste collection stay improper and clearance of waste. For your ease you can submit your complaint by filling online form right from your cell phones or can contact LWMC by dialing quick helpline.  Helpline : 1139
LWMC CONTACT Details
Along all these projects LWMC is also considering other technologies suggested by several international WtE firms to make these process for effective waste management. Other technology to be considered is Pyrolysis. Lahore Waste Management Company committed to turn Lahore into one of the cleanest cities on world's map.