In the recent past time, plenty of foreign tourists have shown the beauty, safety and revival environment of the country Pakistan.
Recently a famous YouTuber named "Dear Alyne" just traveled Pakistan and made a vlog on traveling northern areas in just 100 dollars. Pakistan's tourists' industry is really inspiring foreign tourists day by day, in a large number. In the digital era, where youtube is very influential, Dear Alyne shows a great journey of Pakistan's northern areas in a minimal 100 dollars.
You can check out the vlog of the American YouTuber Dear Alyne, here.
It is no secret that as compared to other countries, Pakistan is the most affordable country for everyone. This American YouTuber set the biggest example of Pakistan across the world. A picture that is totally different from the world's perspective.
She shared with the world the majestic beauty that Pakistan holds.
Not only did she travel all the northern places along with cities of Lahore, Islamabad and Karachi but also made a whole lot of new friends. In fact, the Pakistani YouTuber Karachi Vynz invited Dear Alyne to Pakistan where she experienced the culture and witnessed the hospitatlity of locals. Having visited more than 70 countries, Alyne admitted that while she mostly stayed for 4 days in most countries, she stayed for 16 days in Pakistan.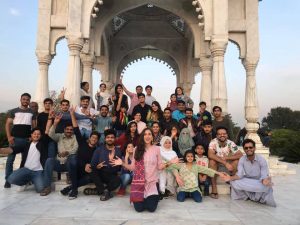 In her vlog, she mentioned every little expenditure on her journey through the northern areas. As in a vlog of the foreigner YouTuber, she tried every local dish, transport, local rides, and spent the night in an igloo – all within just 100 dollars.
What Can a 100 Dollars Do?
Here is the minimum spending of the YouTuber Dear Alyne.
The breakfast in the beautiful mountain with her 8 friends is just for 8 dollars.
A cup of tea in the glorious mountains is for 25 cents.
A jeep along with the jeep driver is 30 dollars per day.
A traditional customized dress stitched by local tailor is for 16 dollars.
A rickshaw ride to the whole city, she paid 1.50 dollars.
A beautiful boat ride in the lake for 75 cents.
A healthy and stomach-filling meal which is quite local is for 1.50 dollars.
And the most precious thing, the night staying in the igloo with an amazing view in front of a lake is for 50 dollars.
Throughout the vlog of this YouTuber, she compared her 100 dollar Pakistan trip with her hometown (Los Angeles) America. As today's dollar rate of 100 USD dollars is for 156.9100 Rs. of Pakistan, it is considerably very affordable for almost any foreigner to visit Pakistan. The local and cheap hospitality of the wonderful northern areas really inspired Dear Alyne and she had an awesome experience in Pakistan.
Hopefully, she will visit Pakistan soon. InshaAllah!
All in all, we hope this information helps you with your tour in the northern areas of Pakistan. In fact, if you know anything more about the cheapest and local tours of Pakistan, do share with us let us. We would love to hear from you.