Ramazan is here and Locally Lahore has come up with the best Ramazan Iftar deals 2021 for our readers. In this article, you will find out the ramazan deals offered by different restraunts of the city. Here are the 10 best Ramazan Iftar Deals 2021 that you can avail yourself of and enjoy with your friends and family members.
Read More: Sehr-o-Iftar timings in Lahore.
Broadway Pizza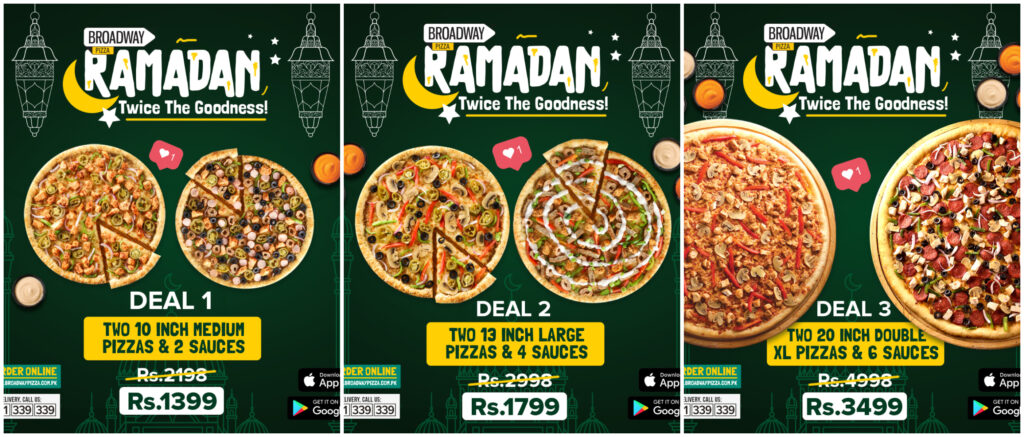 One of the best and delicious Pizza places, Broadway Pizza is giving 3 Ramadan deals. Deal 1 includes the two 10 inch medium pizzas with 2 sauces in Rs.1399. Deal 2 comes with two 13 inch large pizzas and 4 sauces for Rs.1799. And Deal 3 gives you two 20 inch double XL pizzas and 6 sauces in just Rs.3499.
McDonald's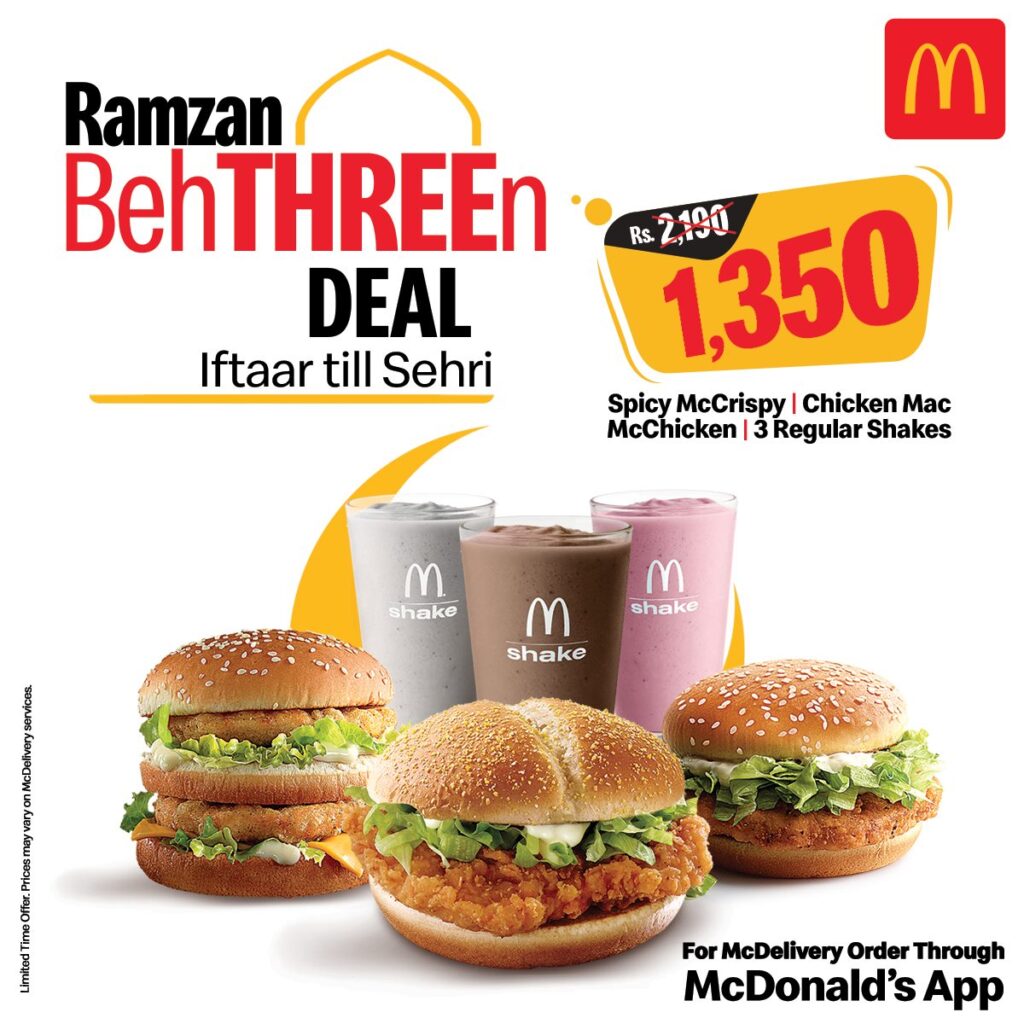 In just Rs.1350, McDonald's is giving an iftar deal for 3 persons that includes a spicy McCrcisy, McChicken, Chicken Mac and 3 regular shakes. It is a limited time offer.
LaDownTown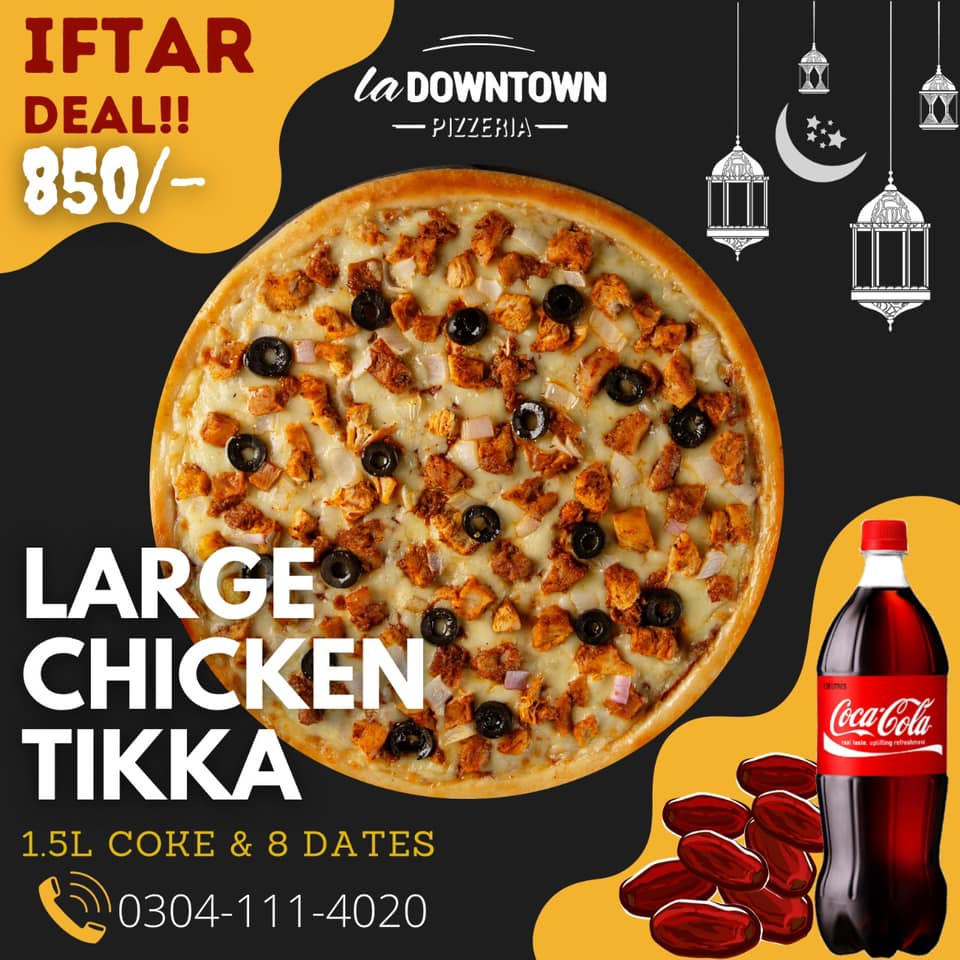 LaDownTown is providing a large chicken tikka pizza alongwith 1.5L Coca-Cola and 8 dates for only Rs.850.
California Pizza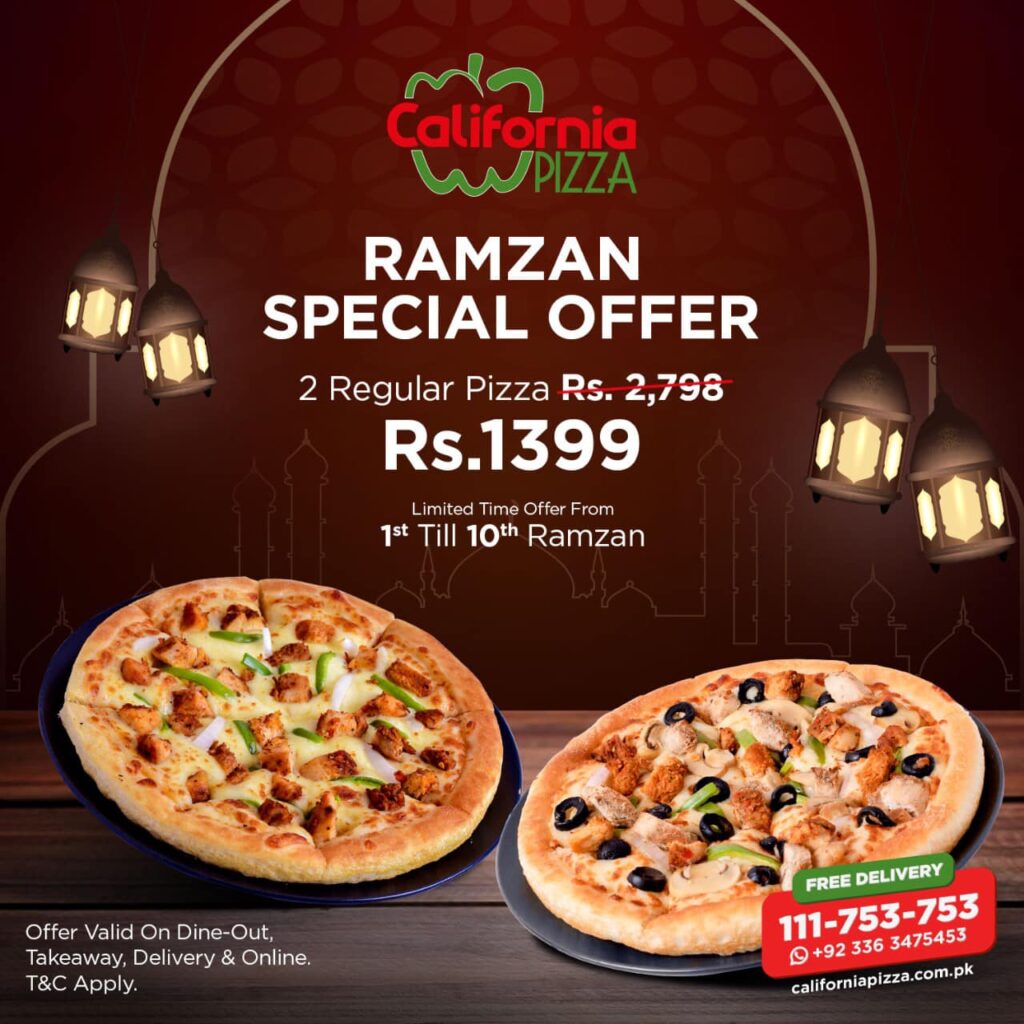 California Pizza is giving a 10 days limited time Ramazan Special Offer that includes two regular pizzas in just Rs.1399.
The Monal Lahore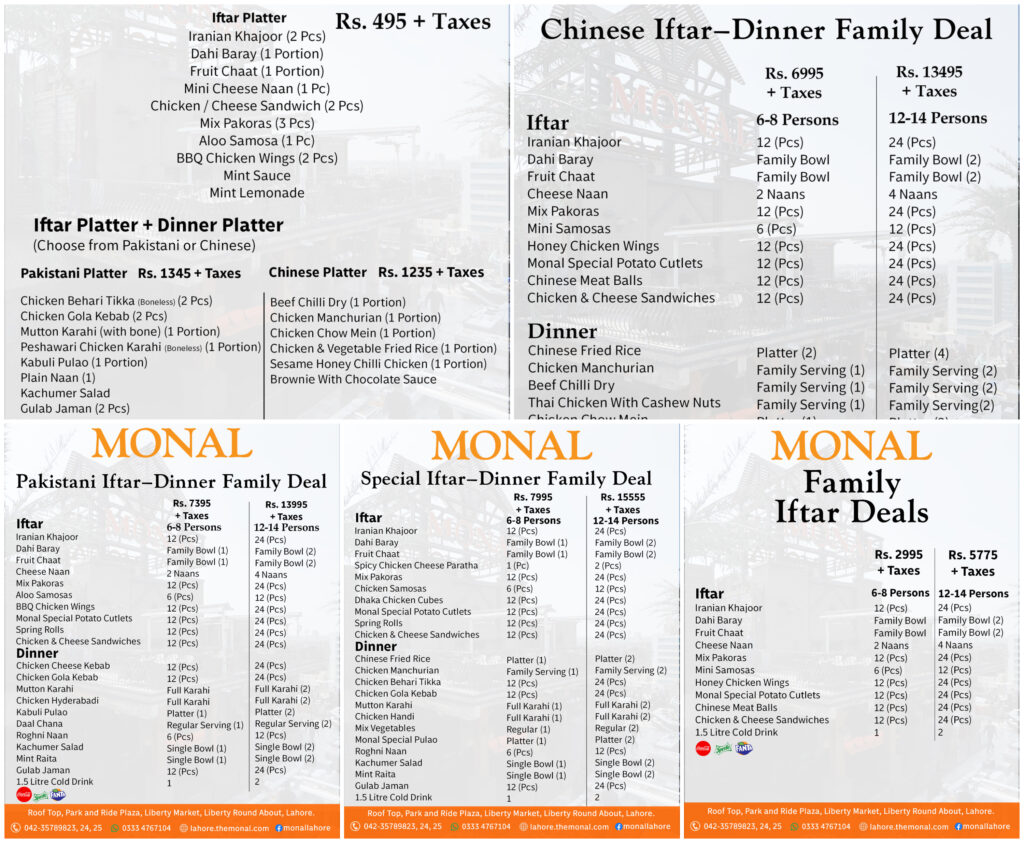 Pizza Hut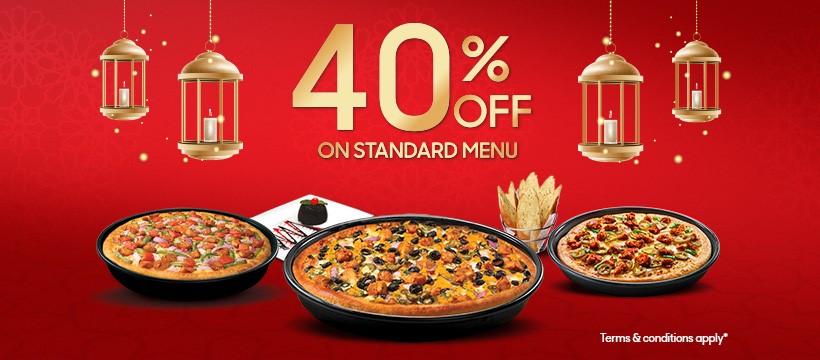 In Ramazan, Pizza Hut has cutoff 40% on their standard menu for the pizza lovers. Go and enjoy flat 40% off on the standard menu of Pizza Hut.
Tenerife Café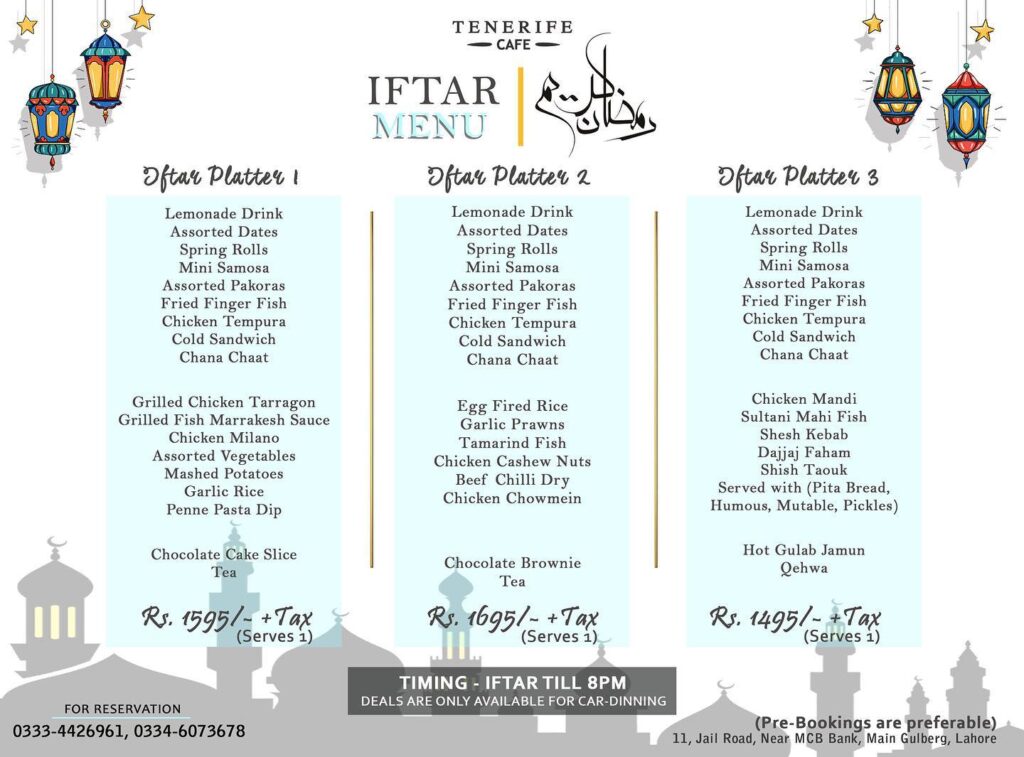 Tenerife Café is has announced 3 different Iftar platters in Ramadan Kareem. Each platter price is different and it serves only one person.
Dera Restaurant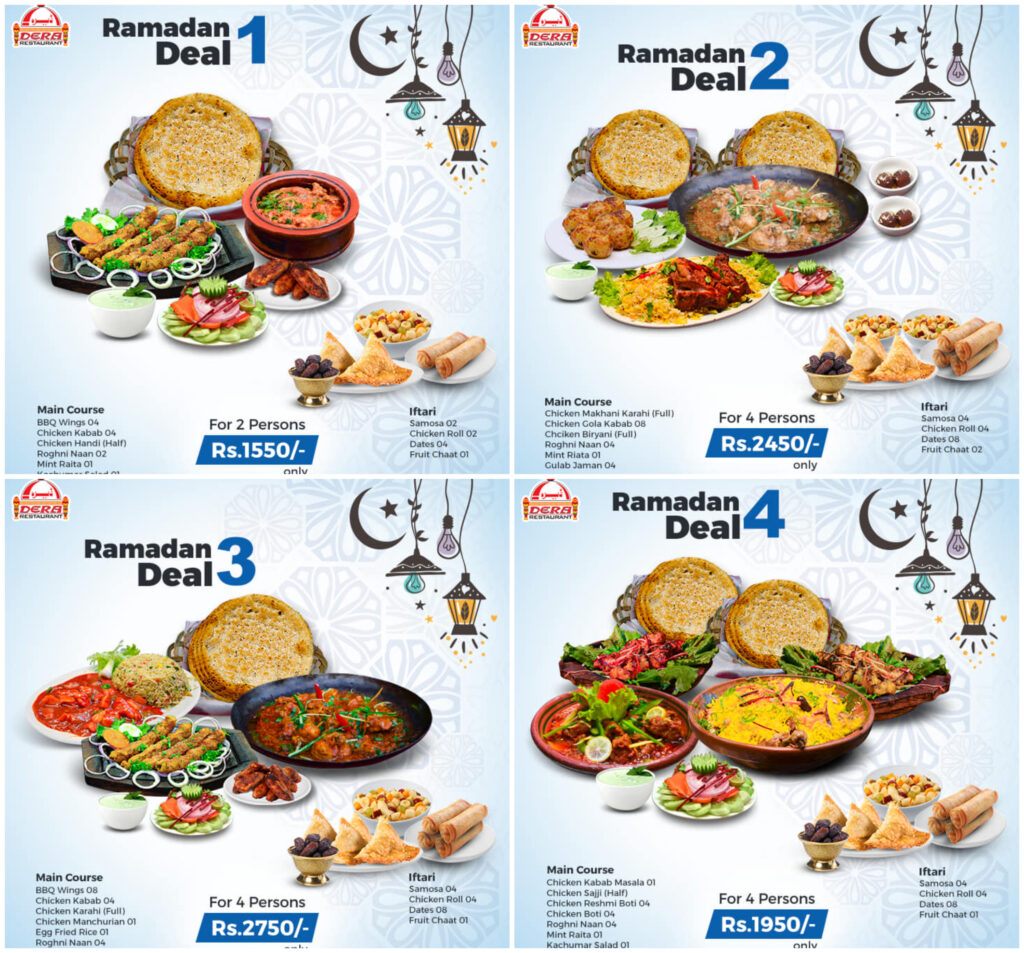 Dera Restaurant is offering 4 Ramazan Iftar Deals that include the eateries of Iftari and main course. Deal 1 is for 2 persons and is of Rs.1550 and other deals are for 4 persons with different prices.
CP Five Star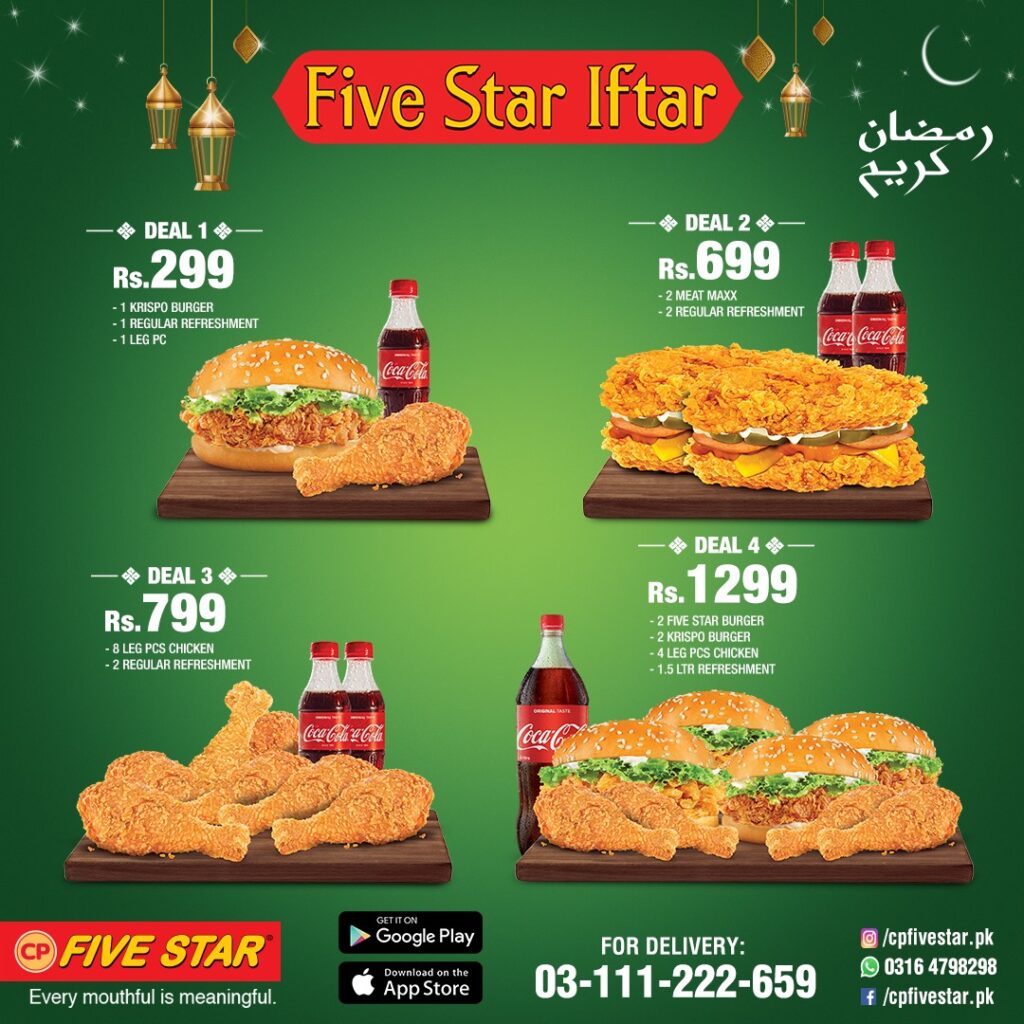 One of the best fast food outlets in Lahore, CP Five Star has given an opportunity to make your Iftari wonderful. Four deals have been announced by the company that are exciting and reasonable in price too.
KFC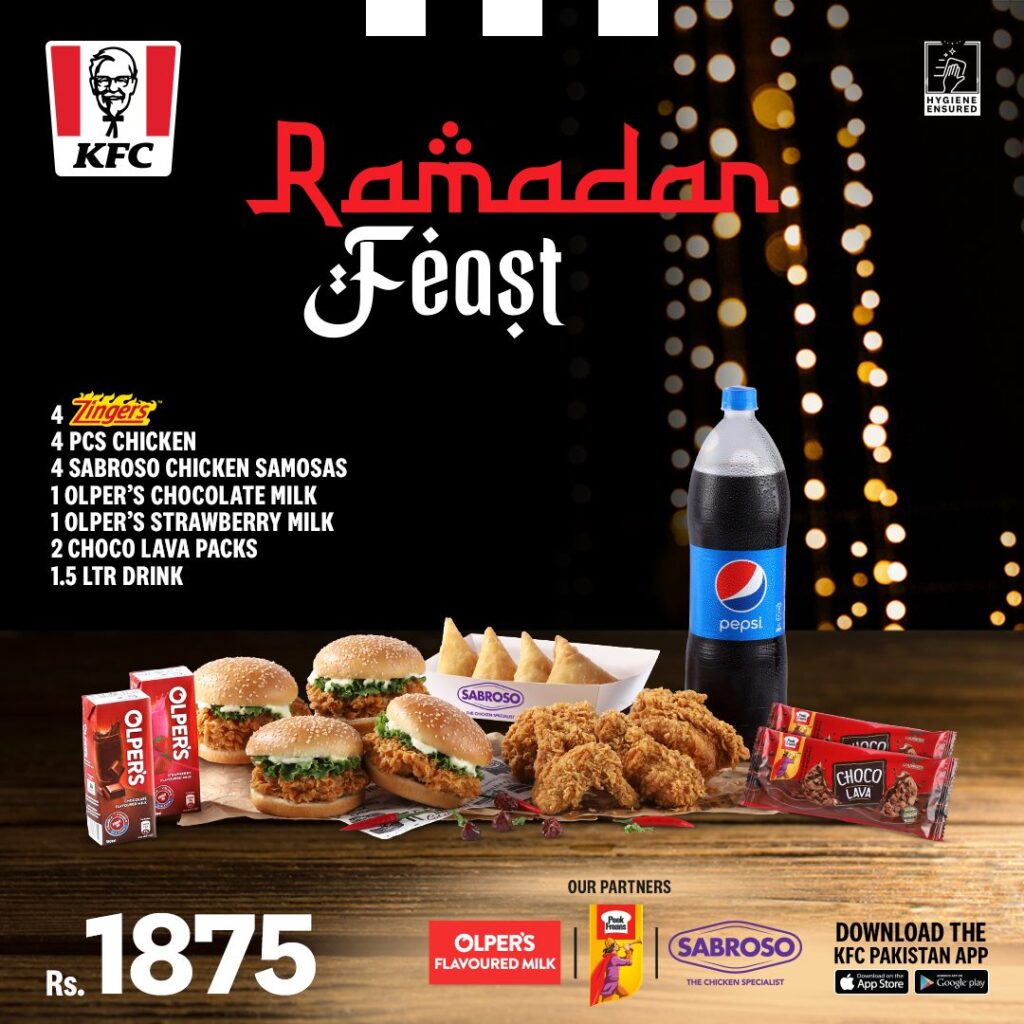 For the holiest month of Ramazan, KFC Pakistan is coming with a deal of 4 zingers, 4 pcs chicken, 4 chicken samosas, 2 Opler's milk, 2 Choco lava biscuit packs and a 1.5 liter Pepsi in just Rs.1875.