Lahore is privileged of being hub of the top tourist attractions nationwide. The city is full of culture, tradition, history, thrill and adventures which welcome travelers for memorable experiences.  As Lahore is also a center of remarkable landmarks, historical sites, amusement parks, bazaars, food courts and more. Indeed, anyone who's fond of visiting Lahore would definitely desire to be at these places. Well, Locally Lahore is offering you a ride to some of the incredible places in walled city of Lahore on Rangeela Rickshaw Ride.
Doesn't it sound unique? Yeah! this ride is going to add an unforgettable experience for your journey. Truly amusing touring on Rangeela Rickshaw has been introduced by Locally Lahore to indulge your tour into the color of cultural ride.
Visit Tourist Attractions in Lahore on Rangeela Rickshaw Ride
Rangeela Rickshaw has been decorated traditionally and depicts a picture of culturally rich ride. It contains the sitting accommodation of minimum 4-5 persons by ensuring their comfort. The tour starts at 9:00 AM from the famous venue delhi gate of walled city and offers its service all week for 10 hours.
Places to Visit in Rangeela Rickshaw Ride
Delhi Gate
Shahi Hammam
Wazir Khan Mosque
Lahore Fort
Badshahi Masjid
Fort Road Food Street
Delhi Gate
Delhi Gate is another masterpiece of Mughal Empires. There were a total of 13 gates in that time for entering in Lahore, Delhi Gate is one of them.  This gate is actually called Delhi Gate as its face is towards the direction of Delhi. It's a beautiful and huge gate having a double story and contains almost 12 rooms as well.
Its walls are designed with small bricks. This place of Lahore is also very populous as there are colorful rickshaws available under this gate. A lot of shops of handmade jewelry and crafts are also along the walls of this gate. The great Wazir Khan Mosque can be seen easily from its roof. Tourists found this place a good source of knowing ancient Lahore.

Shahi Hammam
The walled city of Lahore has majestic buildings which were built in Mughal era. Shahi Hammam is one of them. Shahi Hammam typically means Royal Bathroom in English. Its architecture was inspired by the Turkish and Persian style baths. Architects beautifully designed the inner building with marble.
Hakim Ilm Ud Din Ansari, who was the Governor of Lahore at that time, built Shahi Hammam. This Hammam was used by the Mughals but now it's also available for the public.

Wazir Khan Mosque
The Wazir Khan Mosque is another iconic architecture of Mughal era. Lahore is been considered the hub of Mughal Architecture. This mosque is in the walled city of Lahore. Wazir Khan Mosque mesmerizes the visitors and tourists with its majestic atmosphere. Its architecture is extremely beautiful which consists of Qashani tiles and amazing fresco painting around the whole building of the mosque.
Hundreds of people visit this mosque for prayer. Wazir Khan Mosque has 5 compartments and a central dome. The enchanting architectural design of the mosque was observed to be the first in Lahore.

Lahore Fort
The "Shahi Qila" or the Lahore Fort was built in the era of Akbar, a Mughal Emperor. Fort is located on a vast piece of land in Lahore. Mainly there are two gates of this fort, the Alamgiri Gate and the Masti Gate. The whole fort is surrounded by green gardens and beautiful fountains. There are cannons outside the fort which were used during ceasefires.
The fort has a Mughal museum inside it and lush green gardens. Sheesh Mehal, Diwan-e-Khas, Diwan-e-Am, Moti masjid and much more are the highlights of Lahore Fort.

Badshahi Masjid
The king of all mosques, Badshahi Mosque is located adjacent to Lahore Fort.  The magnificent mosque demonstrates the grace of Holy architecture. About 56,000 worshippers can pray here at a time.
The vast courtyard is secured with bricked walls having a minaret in each corner. The internal building of the mosque contains a large white dome and some small minarets around the building as well. The mosque was crowned as the world's largest mosque for about 313 years in the history. Beautiful marble inlays and fresco motifs are used in the interior design of Badshahi Mosque. Tourists from not only Pakistan but from all over the world visit this amazing piece of art which represents Islamic culture and rituals.

Fort Road Food Street
Fort Road Food Street is one of the famous food places in Lahore, to enjoy the traditional dishes of Punjab with an amazing view of Badshahi Masjid. It may be breakfast, lunch or dinner; food street has all the stuff that can fill your hunger delightfully.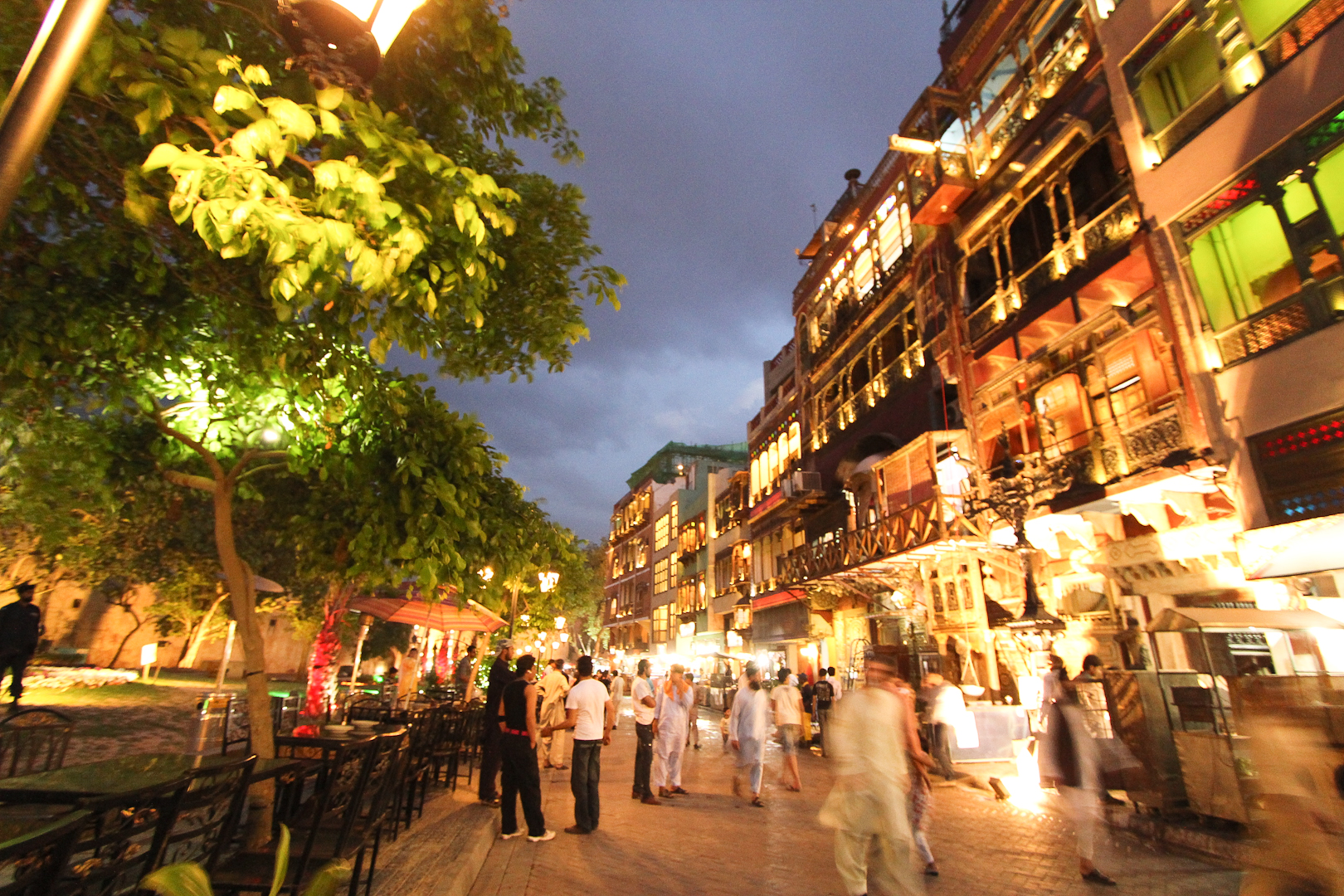 At last but not the least, Rangeela Rickshaw Ride will drop you here for delighting the winding-up moments of your tour of the day.
We're offering 3 different packages for people who want to avail amazing chance of exploring the walled city on Rangeela Rickshaw. Locally Lahore is making your journey memorable and also budget friendly with these 3 packages as followed:
Econo Lahore Tour Package
With Econo package, you can have fun of visiting Lahore for full 10 hours in very affordable price of 2999 PKR per head. In this budget, we are providing you a comfortable Rickshaw ride to all the mentioned place along with tour guide. We'll also provide you refreshment of tea & snacks, cold drinks during the ride and dinner.
Standard Package
Standard is our most popular [package  which is available in 3999 PKR for per person. This package offers ride to all the mentioned places of walled city along with tour guide plus pick & drop.Food refreshment contains ta & snacks, cold drinks during ride and then dinner at Haveli or Fort View Restaurant.
Premier Package to Visit Lahore
Premier package includes ride of 10 hours to all the mentioned places in 5999 PKR per head. Dinner at Andaaz or Cocus Den Restaurants adds worth to this package, plus refreshment of tea & snacks, cold drinks are also been served during the ride. A guided tour and pick & drop facility are available.