Being a Muslim and living in Muslim country mosques are a vital part of our country. Pakistani culture is incomplete without discussing its grand and historic mosques.
The Walled City of Lahore has the crown of world's famous, antique and architectural mosques of Mughal era. These mosques are nonetheless gems making us proud and evident in the modern and historical world.
Piece Of Grandeur:
The mosques in Walled City Of Lahore are the piece of grandeur and valor. These mosques represent the whole history of Mughal Era.
Its walls speak for itself. They are the masterpiece of Mughal art and Culture.
Culture is fading nowadays in the modern generation. Thanks to these Mughal Mosques that are still intact and reviving the Mughal history and our culture.
Magnificence and Beauty In Walled City Of Lahore:
The Architecture of mosques of the Walled City of Lahore is magnificent and glorified. They are done with:
Domes

Corridors

Motifs

Minarets

Décor Ceilings

Calligraphed Walls

Chandlers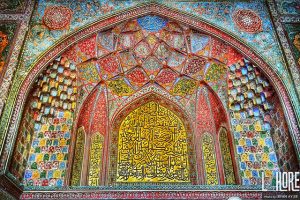 Famous Mosques Of Walled City Of Lahore:
The list of famous mosques of Lahore is very long so, we will discuss only few like:
Sukh Chain Mosque.

Grand Jamia Mosque.

Khizra Mosque.

Sunehri Mosque.

Badshahi Mosque.

Moti Mosque.

Begum Shahi Mosque.

Masjid Wazir Khan.

Jamia Mosque Mian Mohd. Faazil.

Masjid Shuhada.

Dai Anga Mosque.

Zubair Mosque.
The list is much more to go but today we will discuss some of them.
Wazir Khan Mosque
Wazir Khan mosque is very grand and great mosque of Walled City Of Lahore built by Shah Jahan under the supervision of great artists. It is the perfect example of Muslim Culture and Architecture. The view of this mosque is breathtaking with antique calligraphy, grand corridors, and chandlers.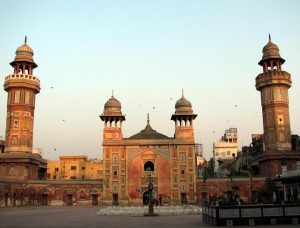 Sonehri Mosque
Sunehri Mosque is the pride of Lahore where people from all over Pakistan come to pay the visit. This is the "Golden Mosque" of Pakistan. It has this name due to its three magnificent golden domes. Its interior is so much grand that people from all over the world praise it. The mosque has a great emphasis on Sikh Architecture. The mosque is about one story up to the street. No one can dare to ignore this majestic, warm and vibrant gem. It is the best example of Islamic Architecture.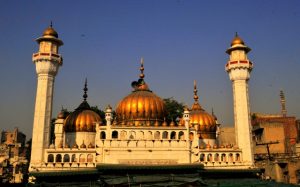 Badshahi Mosque
Badshahi Mosque needs no introduction. You all are aware of its magnificent value. It is a masterpiece of Royalty covered in red bricks all over.
This monument by Aurangzeb is superbly simple and fascinating. It is a center of attraction for many tourists from all around the world.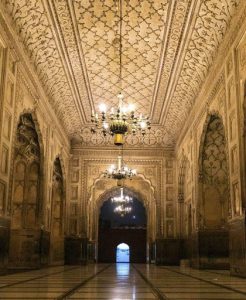 Moti Mosque
Moti mosque is just like its name "pearl". It is called pearl as it is designed fully with white marbles. Its night view with dim lights is a piece of fascination for people from all over the world. The scenes of it are hard to miss.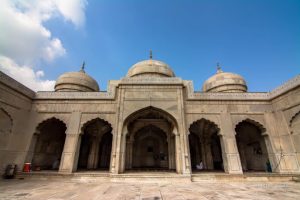 In Nutshell:
The Walled City of Lahore has so much to appreciate. Its beauty, grandness, and magnificence are barely to miss. Lahore has preserved all the beauty and zeal of historical times. Its Mughal architecture is unmatchable.
I highly recommend you all to visit all these mosques once.