Ever visited Lahore? Actually what kind of question am I asking? It's totally insane after all "Jinne Lohr ni Takkya Oh Te Jamya Hi Ni".
But have you seen its Sikh and Mughal monuments? Mughal and Sikh architecture in the Walled City of Lahore is the manifestation of true culture and traditions of Pakistan. They make you utter just wow at first sight.
I didn't believe in "Love at first sight" but after seeing the magnificence and glory of grand buildings of the Walled City Of Lahore I'm fully spellbound.
Mughals and their preference for Gardens:
The Walled City Of Lahore turned into a flourishing city throughout the Mughal period. The Mughals had a preference for gardens bringing a Persian sensibility into the area.
Nur Jahan's remain in Lahore led to a revolution in the town's cultural and social life, changing it into virtually a blueprint of her native society and civilization.
She dedicated much attention to the growth of landscape design in the Walled City Of Lahore putting out in Shahdara her backyard, the Bagh-i-Dilkusha, where Jahangir was afterward buried and Chahar chaman where she was put to rest. This was their love for the town that they built and cultivated, they picked it as their final abode.
Nostalgic Memories:
Babar's nostalgia for its terraced landscape of Central Asia, Humayun's political conflicts, Akbar's tactical tolerance for all religions, and Shahjahan's love for the Walled City of Lahore is evident from the architecture and town planning of the reigns.
Architecture is introduced as a consequence of that occurred around and inside Lahore socially, politically, culturally and otherwise.
The spectacular views of Jahangir tomb, Octagonal towers of Jahangir tomb, Mousaleum of Jahangir, Frescoes on walls and the captivating beauty is unmatchable and leave you speechless.
The Beauty and
Splendor

 of Sikh Architecture:

If we talk about Mughal architecture then it is unfair to not talk about Sikh architecture. The beauty and splendor of nineteenth-century Sikh architectural decoration draw attention to derogatory historiography soon after the annexation of Punjab.

The 19th-century Sikh design in the Walled City Of Lahore highlights the decorative features similar in aesthetic quality and beautiful rendition to many Mughal buildings.
Sikh Masterpieces in Walled City Of Lahore:
Hazuri Bagh Baradari is a white marble pavilion commissioned from the Maharaja. It is decorated with delicately designed themes in large and bas-relief, ayina-kari or mirror-mosaic and painted the wooden ceiling, this arrangement stands among the most gorgeous specimens of Sikh phase design in Walled City Of Lahore.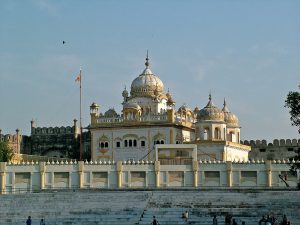 Ranjit Singh's Samadhi decoration and construction is adorned with exceptional examples of red sandstone and white marble carving, finely left handed stones inlay, mirror mosaic, and woodwork. The central hallway with beautifully carved marble knobs holding ash of the Maharaja. Ath Dara, Bhae Vasti Ram, and other such buildings are the perfect examples of Sikh Architecture beauty.
Final Words:
In nutshell, it is not false to say that the Walled City of Lahore comprises all the beauty and grandeur of ancient times which is still intact and vision to see.